Descripción del producto
Description
The golf selfie stick is a robust stick in adonized aluminium that can be used in any weather conditions. Its head affords a double rotations : vertically (180°) and horizontally (360°) giving you any possible position for your smartphone.
The Golf selfie stick can be used with any smartphone of any size. It goes with accessory GoPro and a solid and stable tripod to record your swing on golf range.
We also provide you a remote shutter to control the camera of your smartphone up to 10 meters a distance. The remote shutter is compatible with iphones and android smartphones.
Features
- Selfie stick to use in your golf bag or with a tripod
- Multiple head assembly allows for every possible camera angle.
- Hard adonized aluminium.
- Stainless steel screws.
- Lever locking rods
- Universal bluetooth remote shutter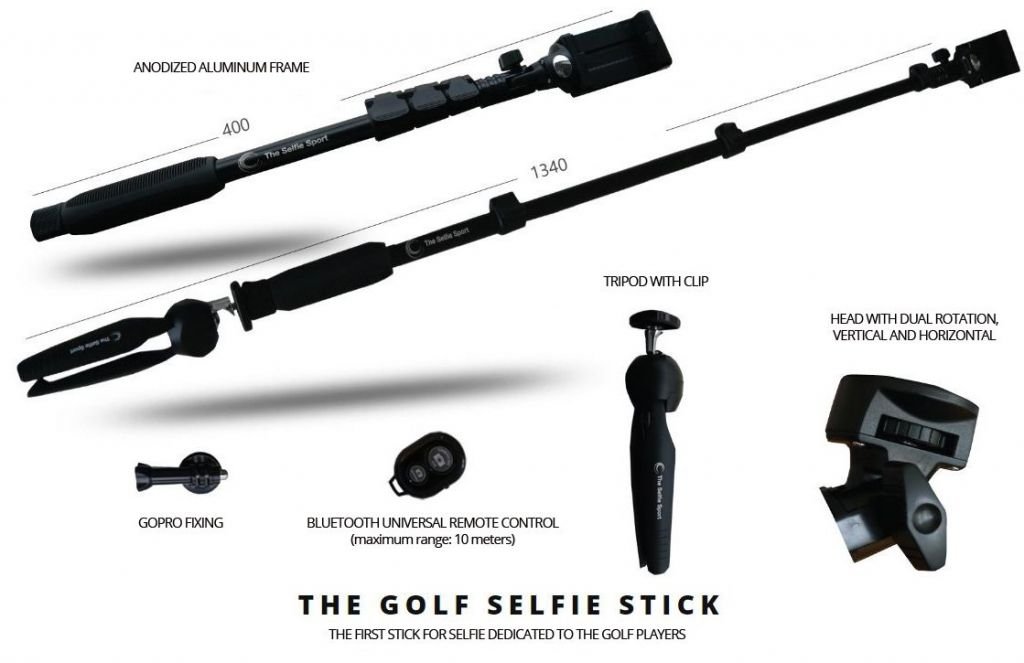 Dimensions
- Retracted size: 15.5'' (39 cm)
- Extended size: 39 '' (99cm)
- Weight: 7.3 oz (207 g)
- Handheld: 1.5 lbs (680 g)
Pago y Envío
FORMA DE PAGO
- Tarjeta de crédito sobre plataforma PayPlug
- Tarjeta de crédito sobre plataforma PayPal
Para más información visite "Forma de pago"
MÉTODOS DE ENVÍO
Golf'us Spain S.L. le da la posibilidad de recibir sus productos cómodamente y directamente en casa, gracias a SEUR S.A.
Recuerde que los costes de pedido y gestión difieren según la modalidad de pago y la opción de envío seleccionados. No obstante, Golf'us Spain S.L. le indicará cuál es el método de envío más conveniente antes de que usted haya efectuado el pago de los productos.
Costes de envío para toda la Península e Islas Baleares
- HASTA 3 KG € 7.99
- HASTA 5 KG € 9.99
- HASTA 10 KG € 14.99
- HASTA 20 KG € 19.99
Para más información visite "Métodos de envío"