Descripción del producto
Feel the flex with Contour Series golf shoes for men! Special construction allows for the ultimate in underfoot comfort and flexibility. FJ, The #1 Shoe in Golf.
FEATURES & BENEFITS
CONTOUR LAST
Full rounded toe character, full across forefoot, standard instep and heel. The last bottom has been contoured to closer match the shape of the foot.
CUSHIONED FIT
The lightweight PU Fit-Bed® provides soft underfoot cushioning to deliver added comfort and heel support.
TURF GRIPPING ADVANTAGE
Pulsar cleats by Softspikes® are the #1 selling cleat in golf and the overwhelming choice of touring professionals worldwide. The Pulsar cleats feature all the same turf grip and walking comfort advantages of Black Widow plus the additions of radiused legs for extra durability and cleat webbing for easier cleaning.
WATERPROOF
The soft and supple uppers offer outstanding 1 year waterproof comfort, breathability, and durability.
CUP SOLE
This DuraMax outsole features a soft rubber compound which provides flexibility and comfort.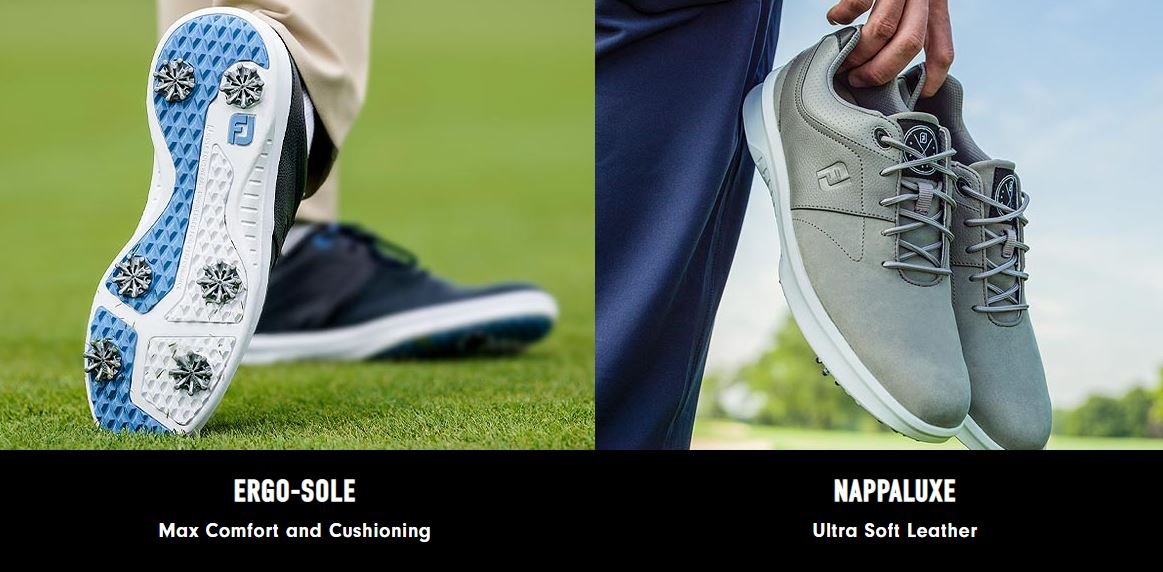 Pago y Envío
FORMA DE PAGO
- Tarjeta de crédito sobre plataforma PayPlug
- Tarjeta de crédito sobre plataforma PayPal
Para más información visite "Forma de pago"
MÉTODOS DE ENVÍO
Golf'us Spain S.L. le da la posibilidad de recibir sus productos cómodamente y directamente en casa, gracias a SEUR S.A.
Recuerde que los costes de pedido y gestión difieren según la modalidad de pago y la opción de envío seleccionados. No obstante, Golf'us Spain S.L. le indicará cuál es el método de envío más conveniente antes de que usted haya efectuado el pago de los productos.
Costes de envío para toda la Península e Islas Baleares
- HASTA 3 KG € 7.99
- HASTA 5 KG € 9.99
- HASTA 10 KG € 14.99
- HASTA 20 KG € 19.99
Para más información visite "Métodos de envío"
Prodotti simili e consigliati